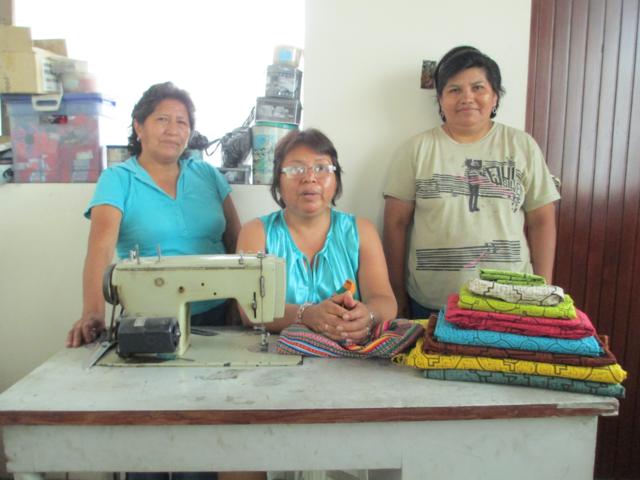 Producer Group
Emady
El Agustino, Lima, Peru
The artisans meet in the workshop the group has built on the third floor of Dionisia Ramos's home. From their sales, Emady was able to set aside this space specifically for their sewing and has invested in a sewing machine and buying materials in bulk to reduce their costs and produce steadily throughout the year. As a small group, they make decisions by consensus and annually rotate who is responsible for the finances.
Their participation in Fair Trade has taught the group business skills like how to file taxes and how to manage and operate their business. They are proud that they have never had to ask for a loan because they have always been careful to set aside a portion of their income from sewing to invest back into the business. Emady's good recordkeeping and willingness to sell have been deeply appreciated by other artisans.
The women are able to provide support for their families through their sewing. Eluteria's family consists of four children and a husband who does day work when jobs are available. Maria and her jewelry-making husband are raising three children. Dionisia also has three children, one of whom has Down Syndrome. She and her husband were able to send Victor to a school for special needs children thanks to the income she receives from her work in Fair Trade.
When asked what this group has meant to them, the women said that they have become sisters above and beyond just being friends. When they are working together, they have a space to share problems, sing out loud to music, and do what they love to do – sew. They are always looking forward to the next order so they can have an excuse to get together!
For many years, the women specialized in products made from shipibo, a hand-painted cloth that is produced in the Peruvian jungle. Every fabric that is made is unique and contains the designs of the painter. On average it takes two days to paint a shipibo cloth and three days to wash. It's an art form in and of itself.
The women of Emady buy shipibo that is hand-painted and naturally dyed. The have a good relationship with a woman from the city of Pucallpa who makes shipibo cloth. She provides them with a good product that maintains its color. With the demand for artisan products outside of Peru, it has become common for companies to industrially stamp cloth with a shipibo design to reduce costs and cut production time. Emady is careful to buy only shipibo they know is made by hand.
No products were found matching your selection.