Tupaq Yupanqui
Grey Knit Alpaca Gloves
These new grey gloves are woven out of alpaca wool for a soft and warm fit! Featuring knitted patterns, these gloves are perfect for the winter.
Sizes come in regular and long.
Item
70% alpaca, 30% acrylic
Hand wash cold, dry flat
Producer
Producer Group
Tupaq Yupanqui
Yauli, Huancavelica, Peru
The group's members, numbering at times up to twenty, grew up knitting but could not receive a fair wage for their work locally. In 2006 they began to work with Bridge of Hope, who exported their socks, which incorporate traditional Incan patterns. The members of Tupaq Yupanqui, with their business knowledge gained through Fair Trade, have faith in this sustainable way to improve their livelihoods. Since 2006, the group has increased sales, adding alpaca hats and gloves to their products. Their confidence continues to grow as they work on pricing, quality control and design, hoping to escape from poverty through their work.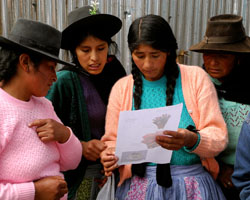 Shop Tupaq Yupanqui