Our Story
Partners for Just Trade
Partners for Just Trade is committed to a holistic approach to fair trade. For us, it goes beyond ensuring fair wages and healthy, safe work conditions. It includes our long-term partnerships with artisans in Peru, Haiti, and Cambodia to help grow their businesses and strengthen their communities. You can be part of the change.
Featured Items
Hand-Crafted Christmas Ornaments
These beautiful Christmas tree ornaments are holiday favorites!
Shop Christmas Ornaments
Donate to PJT
Support Partners for Just Trade in our mission! As a nonprofit, each donation helps PJT in our commitment to growing sustainable global partnerships through providing more opportunities to empower, support, and work with our artisan partners.
Featured Producer Group
Chocas Chico, Huancayo, Peru
Llamkay Tuki is the artisan group that was selected out of a large group of qualified artists. Daniel, Rosa, Virgilio, and Joel live and work in Cochas, Huancayo, Peru. Their name, in the Quechua language, can be translated as "beautiful work". They have learned how to pick out gourds of the best quality, which they clean carefully before they sketch the design on them in pencil. Daniel specializes in burning the design into the gourd; then Rosa carves the thin, delicate lines that outline the design. Working within Fair Trade has also taught this group how to run a business well.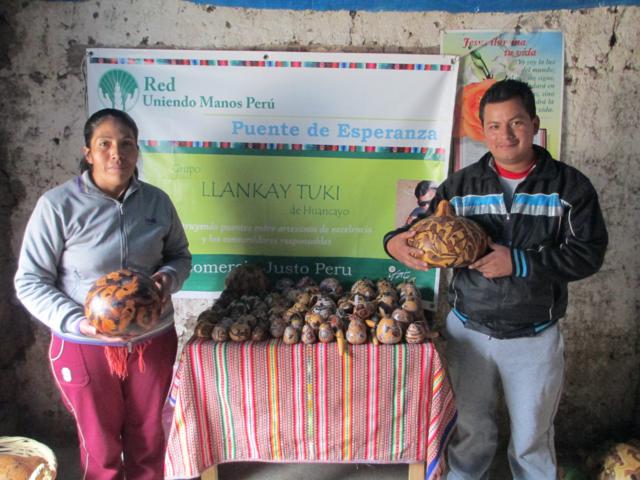 Shop Llamkay Tuki