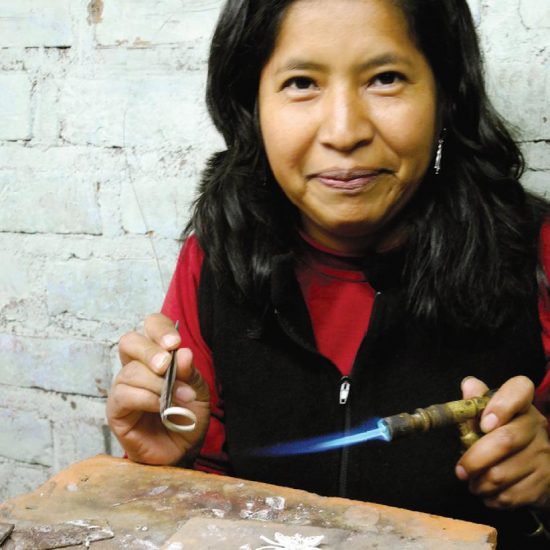 Producer Group
Munay Rumi
Jicamarca, Lima, Peru
After years of monotonous work in a jewelry factory, working 80-hour weeks for only $115 a month, members of the group decided to leave to form their own business. Their first attempt failed and most of them ended up back in factory jobs. But shortly thereafter, they heard about a Fair Trade project in Peru and went to see if they could be involved. The jewelry makers formed Munay Rumi, and after a year of improving their designs and the samples they'd originally shown, they produced their first jewelry items for export.
They have been working together since 2006. Because of their factory jobs, they had a good technical foundation but lacked in the area of design. Much of what they produced was commission work or similar to the mass-produced jewelry seen in the local markets. Partners for Just Trade recognized Munay Rumi's commitment and potential, so PJT sought out jewelry designer Peggy Eng to go to Peru to work with the group. Peggy spent six weeks over two separate trips working with the group to facilitate their development in design, build a cohesive group of designs into a collection, and understand the importance of developing a signature style.
Unlike in the U.S. or other countries, in Peru Munay Rumi cannot order materials and supplies for doorstep delivery; they must travel by bus into the city to purchase goods, which sometimes turns into a long ordeal depending on the traffic. Additionally, they do not have ready-made precious metal. In order to have silver sheet and wire to work with, They must first take pure silver "grains" which they melt and alloy, pour an ingot, and then roll it out into sheet or draw it down into wire. Munay Rumi uses silver as their primary raw material for filigree jewelry and now also works with traditional seeds (huayruro and acai). With silver, they incorporates stones from Peru including black onyx, lapis lazuli, and Peruvian turquoise.
Their accomplishments and work are quite impressive considering that their workshop space is small and minimally equipped. They maximize the use of what tools they do have and find creative solutions for the ones they don't.
The artisans are grateful for a Fair Trade market through PJT because it has allowed them to become business owners and work for themselves. Bridge of Hope has offered the support necessary to make the transition from working for someone else to working for themselves through workshops and mentoring relationships.
No products were found matching your selection.