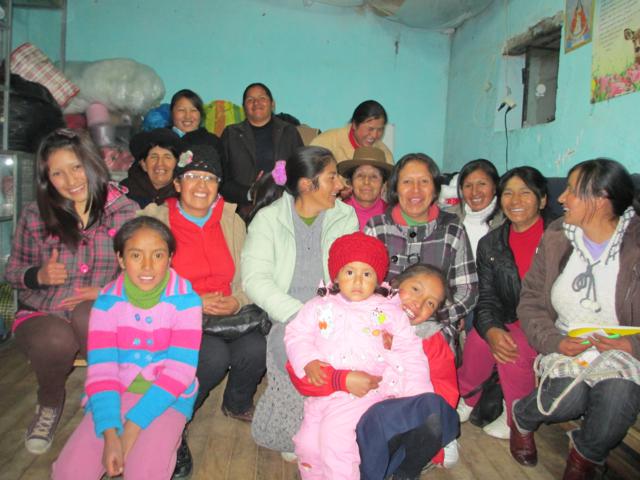 Producer Group
El Mercurio
Santa Barbara, Huancavelica, Peru
The members of El Mercurio fled to the outskirts of Huancavelica in the 1980s, escaping the horrific violence in the countryside. (In 2003 it was finally reported that in the 1980s and 1990s, nearly 70,000 people were killed in Peru, most in Ayacucho and Huancavelica.) Some of the women were young orphans. Most still have family land in Santa Barbara, but are unable to eke out an existence there as the community is still rebuilding llama herds and recovering from the loss of key community leaders. Most of the women return to Santa Barbara (a 10-15 hour walk) two or three times a year for planting and harvesting, but live in the town of Huancavelica for most of the year. These women have incredible knitting abilities, but had been unable to channel their talent in a marketable way. Most have a number of children and other family responsibilities. National statistics show Huancavelica as the poorest region in Peru, and these women are among the most marginalized. Before El Mercurio was formed, some washed clothes in the river for families who lived in Huancavelica, some shined shoes, and others worked in homes as maids; none of these jobs provided an income that could help them out of extreme poverty.
The challenge was great: married women with children beginning to work for themselves broke the traditional way of doing things in that era. The role of the woman is supposedly limited to household chores and caring for the kids in the home. Many groups in Peru produce finger puppets, and when the local NGO presented El Mercurio with the idea, they got out their knitting needles (and bicycle spokes when they didn't have needles) and let their creativity run wild. Of the five initial women, only one could stick it out. In spite of the difficulty, this woman pushed ahead with the goal of creating her own business. Little by little she received small local orders until one day the workers from Fair Trade visited her and proposed that she begin working with Bridge of Hope. She received her first order of 300 items and from there our mother of courage, Yody Moran, began to look for others mothers that knew how to knit and had the desire to achieve big things in their families. That was the birth of El Mercurio – a group of enthusiastic women that pursued their dreams until they reached them.
None of their homes has space for them to work together so they rent a one-room house in which they gather every morning and late afternoon. They have now expanded to making many varieties of knit stuffed animals. When there aren't orders, the women still get together to knit, taking advantage of the time to make things for themselves, produce new designs, and grow the relationships between them. In addition to increasing the members' income exponentially over the years, the group has also provided important support for the members. The workshop acts as a safe space for them to share the joys and challenges of their everyday lives.
El Mercurio has continued growing. There have been problems along the way like in everything that is just starting up, but being enterprising women with good help from Fair Trade, they have continued moving forward. Today, every one of the 30 members of El Mercurio has a story of struggle but also a story of success that keeps them pushing on. They are grateful to Bridge of Hope and their customers for continuing to support them through the years and for providing valuable training that has helped them grow in many ways.
No products were found matching your selection.